30 YARD DUMPSTER RENTAL
We recommend a 30 yard dumpster rental for customers needing to get rid of renovation materials, construction debris, large amounts of household junk, wood, green waste, and similar materials with volume. The back of the bin fully opens, making it easy to load.
If you are working on a renovation project, a large household clean up or if you are getting ready for a move, our largest bin is often the best solution. It will typically hold 2 to 3 tonnes of standard household material. And 1 tonne is 2200 lbs. If you were taking this amount of material to the transfer station yourself, it would be approximately 10 trips in a pick up truck.
30 Yard Dumpster Dimensions
Dimensions for this 30-yard dumpster can be seen in the image to the right. It's 6' high, 8' wide, and 16' long.
The 30 yard dumpster rental is also our most popular bin for construction waste, for roofing materials, and for larger landscaping projects.
All bin sizes are approximate.
30 Yard Dumpster Rental Prices
Please contact us directly or click the button below in order to get an accurate quote.
We are always here to help and answer any further questions you may have. Please contact us for a free estimate at 604-728-5486.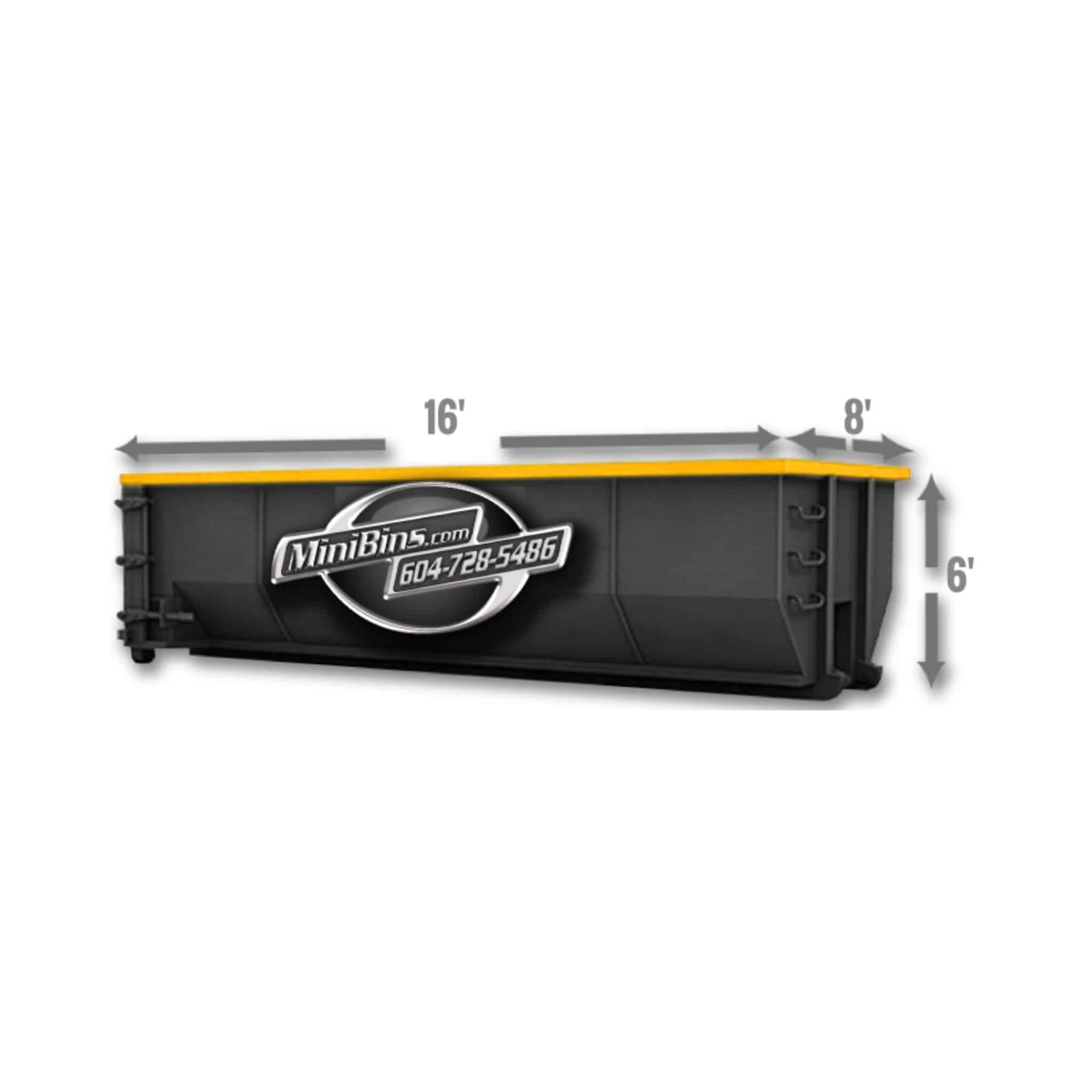 WASTE DISPOSAL & RECYCLING OUR DUMPSTERS
20 Yard Dumpster
Approx14 feet long x 8 feet wide x 5 feet tall.
Approx 7 trucks load.
CUBIC YARD CALCULATOR
Calculate your required bin size based off how much waste you have.
All Bin sizes are Approximate.
Dumpsters are available for delivery seven days a week. Pick-up and delivery times can be arranged 24 hours a day.
MINIBINS
ORDER A DUMPSTER