SERVICE
AREAS
We work all across Vancouver and the Lower Mainland. From North Vancouver to Abbotsford, from Mission to White Rock, we have you covered.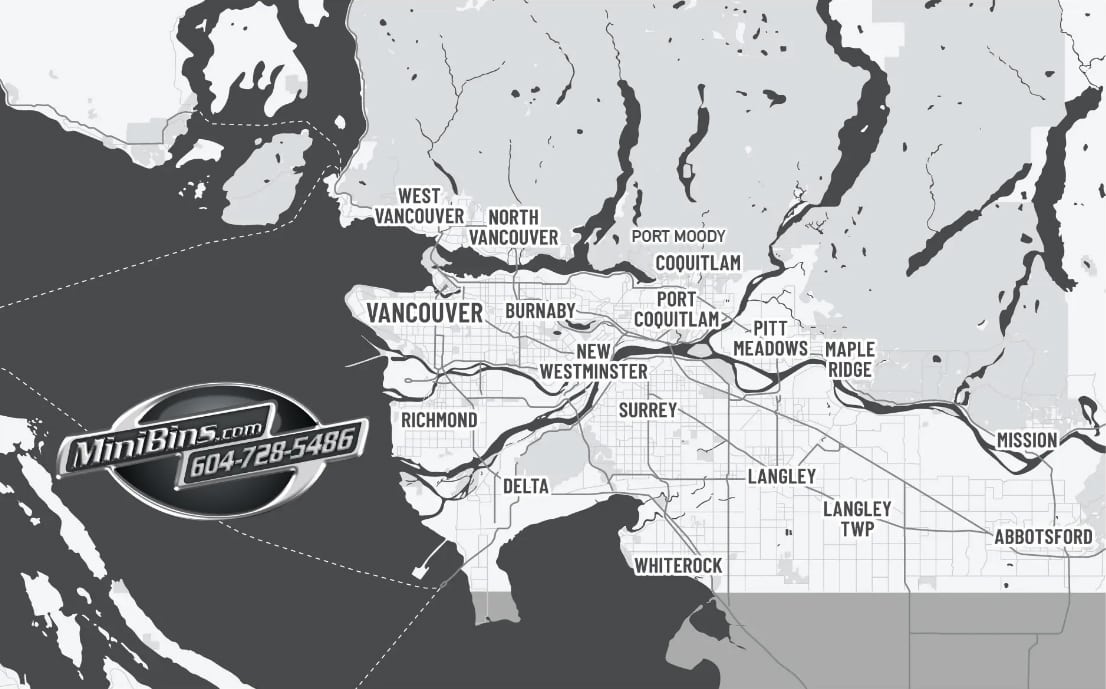 CONTACT
MINIBINS
For any help or enquiries, you can reach us at:
Phone: 604-728-5486
Email: [email protected]
Hours of Operation:
Dumpsters are available for delivery seven days a week.
Pick up and delivery times can be arranged 24 hours a day.
CLIENTS
REVIEWS
What people think about us
This is our second time using Minibins. Both times they have provided exceptional service. Everyone from dispatch to driver were friendly and professional. Delivery and pickup of bin was prompt and priced accordingly. Definitely recommend. Our experiences have been flawless.
Debbie Davis
Great community minded organization that cares about sustainability and a excellent service vendor to the BC film industry!
Cydney Lyons
We love dealing with Minibins - always so quick on last minute pick ups and great customer service!
Kelsey Evans
I am giving a 5-star rating to this company and its employees. I moved from Prince George to Langley into a house that needed a lot of renovating. They have been extremely professional throughout the process, provided excellent customer service, followed up regularly with me to make sure my bins were switched when needed. Their price was competitive and they showed a very good attention to details. I felt confident to do business with them; therefore, I am strongly recommending Minibins.
Jason William
As a property site manager we have moved to minibins for their better quality of service, reasonable prices and newer bins. It was frustrating dealing with the bigger firms for extra services or missed pickup issues. The calls got bounced around with no immediate resolution, Solutions are immediate with Minibins. Thanks!
David Astle
As a Vendor Coordinator for a music festival it was my responsibility to organize the garbage bins. I left that task quite late and ended up calling a few different bin rental places. What a pleasure it was to talk to Minibins because for them it was NO problem to get me the number of bins I needed in a very short time. Delivered on time, professional and amazing to work with. Call Minibins and you will never use another Dumpster Rental company…. I currently won't!
Rebecca Daniel
called Minibins for a last-minute rental before a long weekend; unfortunately, they didn't have one available but called me back 30 min later to tell me they were able to secure one. I could not be any happier. The bin was delivered first thing Saturday morning and Minibins saved the family reunion long weekend. Need to rent a bin…just call Minibins…they will do an amazing job.
Kollara Kollara
These guys were great. We got a big bin for my family's house renovation and they dropped it off and came back a week later when we were done to get it before I was even home from work. Easy and simple process to deal with. Recommended them to my neighbours!
Jared Clark
I've had about 25 bins in the last couple of years from them. Great service, on time, and great prices. If you need a bin these are the guys to call.
Ian Gow
I don't Know what is this Glen guy talking about, but I am talking about my own experience, these people are great, they are always on time and always fair to us, customers. I will always call them first, when it comes to have someone reliable getting the job done. Keep up the good job Bret.
Farshid H Nasserabadi